Gareth Jones On Speed
The Show:
That bloke off the telly, his mate, Zog and Sniff Petrol present Gareth Jones On Speed.

Gareth Jones On Speed is an entertainment podcast about cars and motorsport. This pioneering show, has been running successfully since 2005 and enjoys a regular position at the top of the iTunes download chart.

THE podcast for petrolheads. Download for free from iTunes or listen at www.garethjones.tv

Officially the most popular automotive audio podcast in the world.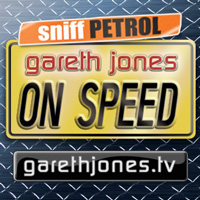 Click on the image to visit the Gareth Jones On Speed mini-site

The Team:
Gareth Jones - TV Presenter and motorsport reporter

Zog - (real name Paul Ireson) - New media producer and technology journalist

Richard Porter - Script Editor on BBC's Top Gear and the man behind the cult website www.sniffpetrol.com

Violet Berlin - TV presenter, writer and Science Communicator, "Britain's Best-Known Girl Gamer"